…in the meantime of waiting for arival of components for my DIY ruder pedals project…
as outside there is perfect DIY weather, some 1degC snow w/rain, my joysticks colection didnt last for a long.
First I disasembled TM T16k joystick and extracted throtle axis potentiometer. It is sliding pot what is one of the reasons I bought this joy


I have mounted this pot on top of my MS InteliMouse. You maybe ask why??
To complete my HOMAS setup = Hands On Mouse And Stick

This setup - joystick in right hand, mouse in left hand - is my main siming setup. I am using the mouse to 1) look around the cockpit 2) to interact with clickable cockpit 3) now also to control the thrust.
It is very intuitive (look around) and imersive (manipulate the cockpit butons and switches) at least for me. The throtle axis was necesity because of DCS inability to map this function to mouse scrolwheel.
---
---
my second quick and dirty or KISS project (Keep It Simple & Short) was to ergonomization of Cobra M5 joystick.
Originaly the most left button (red) is realy not ergonomicaly placed as it is in the way of the thumb finger - moving from holding the stick to controling the hat switches.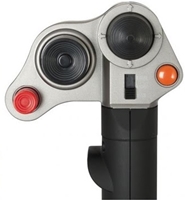 So I did cut the plastics, cut the pcb and moved the button between the hats. Now I need to figure out how to cover the big hole on the left side

PS: feel free to post your DIY stuff