Caution: You're gonna need to refill your Mudspike Morning Turbine Fuel Mug for this longish read…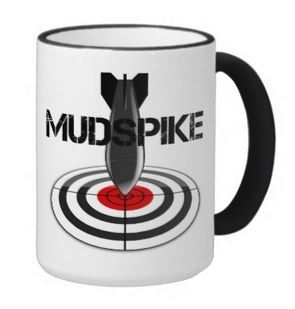 So I kicked off the first leg of the nine leg EPOCH Master Pilot Air Rally yesterday after a bit of puzzling and planning. The rally will crisscross Florida from the Panhandle, down to the Keys, up the center of the state, then back down the east coast to the rally end point in Key West (Duval Street…here we come!). The very rough map with the general route was created by -bc- to give an overview…
HOWEVER - there are some important rules that really make the trip fun and challenging. In an interesting trip, the entire rally will be split over nine flights, in different aircraft classifications, with a maximum of one hour of fuel endurance for each leg. The aircraft categories are:
Ultralight / AULA5
Single or Twin Turboprop GA (General Aviation)
Light Sport (LSA)
Single Engine Helicopter / Gyrocopter
Single Engine GA Piston
Prop Airliner (piston or turbine) with >20 seating capacity
Twin Engine GA Piston
STOL-capable BushPlane on wheels
Military Single Engine Prop Aircraft from pre-1946 era
Now, this made for some fun research and introspection. You see, you have to complete all of the nine legs using one aircraft from each category, so you have to think carefully about the distance you can go in one hour, the availability of airfields, the suitability of airfields, and a whole host of other things. Is the weather bad? Will you need an aircraft with an ILS? If you land in the LSA, can you take off from the same airfield in an airplane that requires more runway? The puzzling over this list was awesome fun. Either payware or freeware aircraft can be used.
The one hour fuel load is from a cold and dark state as well (or, you can take a five minute fuel penalty and load the flight with engines running). So at least some proficiency with the aircraft is useful so that you aren't wasting your hour of fuel trying to bring the beast to life. Also, there is an unknown factor that can throw you for a loop since we are just setting the X-Plane fuel slider to = 1 hour. There is no telling if that means 50 minutes or 1 hour and 20 minutes of cruise, high speed cruise, or economy fuel setting. Leaning, power setting, course, winds aloft, and altitude all combine to make the 1 hour of flight a bit of a mystery and continuous monitoring and calculating is necessary. I have to say, my first two legs were quite dynamic with me pounding the calculator to see if I could make it to my planned destination, and having a few backup plans in my pocket just in case. For those that poo-poo civil flying against combat simulation flying, I think you'd be surprised how tense and exciting a challenge like this can be!
There are a couple of rules to the rally that must be kept in mind.
Must stay within 1nm of land (with a couple of exceptions around the Keys)
Real date / real weather
Ramp start / cold start or you get a five minute fuel penalty for each if you choose to runway start / hot start
As well, the three major overall segments (up and down the peninsula) have some specific rules such as staying with 10 or 15nm of the coast (but not more than 1nm from land - so we are mostly talking inland deviations) on two of the segments.
Armed with the rules and sitting down with Sky Vector for the evening and a sheet of paper in front of me, I dove into the planning. First, I needed to come up with a list of aircraft to fly that met the criteria for each of the nine legs. I've only settled on a few so far, again, weighing their performance, complexity, and suitability to each leg. You probably don't want to take a 70 knot cruise ultralight into a 30 knot headwind - so there is some puzzling to do over the selections for sure.
The route planning seems straightforward at first, but on the first major segment down to the Keys from the Panhandle, you have to make sure you are never more than 1nm from land and you also have to make you don't wander more than 15nm from the coast. So while direct routes are the most efficient, they may not meet the requirements of the rules. So map in hand, one starts researching the route, taking into consideration crossing water bodies and spending some time zooming in on the map to make sure they are legal. Essentially, you cannot cross any body of water that is more than 2nm wide since at the mid-point you will be 1nm from either shore.
---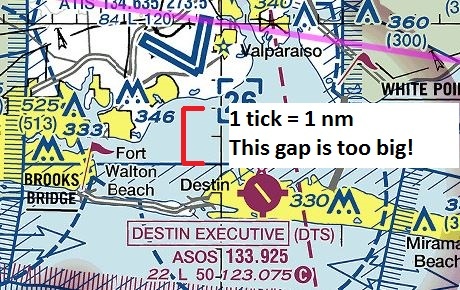 I found an excellent planning tool that allows you to input a circle radius and plot it on Google Maps: HERE!
It is super helpful at visualizing just how far from the coast a proposed point might be - but you still have to take care. For instance, this proposed stop in Cross City, FL would keep you legal on the airport, but any flight pattern to the northeast of the field would take you out of the 15nm from the coast rule!
The final approach courses to the northwest/southeast runway, however would be fine…
A 2nm diameter circle plotted on the chart tells me this crossing near Port Charlotte will be within the rules…
Planning and maps are something I revel in, so this challenge was tailor made to my interests. After a bit of zooming and panning and measuring and plotting - I came up with what I thought was a solid plan. Probably not the most efficient, since it doesn't take advantage of exact straight lines between points, but it is important to balance efficiency with the ability to navigate the route, not get lost, and not inadvertently break a rule. It is particularly challenging in aircraft with no autopilot and limited avionics (throw in some weather - which to this point has been very good - and you can imagine the chaos!)… (click to enlarge map)
The first category aircraft I chose was the Bell 407 for the Single Engine Helo category. Remember, once you use a category, you cannot use it again. Since the conditions were solid VFR with a slight tailwind, I figured I'd better use up my less capable aircraft first. Diving into the POH for the 407 came up with roughly a 130nm range based on the anticipated fuel burn.
On the ramp at the Rally starting point, and start point for Leg 1 - Pensacola, FL (KPNS). Hey…my helicopter is down there on the bottom you pervs!
I move the slider to 1.0 hr. of fuel which equates to 277 pounds in the beautiful DreamFoil Bell 407.
I actually practice a few cold start procedures before embarking on the official leg since time spent on the ramp idling is just eating into your 1 hour of fuel. I get the 407 up and running, and plug my destination (Apalachicola - KAAF) in the GPS…
Off we go…push the nose over…set near maximum torque, and run her up to redline for maximum speed…
Leaving Pensacola behind…
Just leaving Pensacola has some challenges since you have to navigate around Pensacola and Escambia Bays to adhere to the 1nm from land rule. Attention to route planning and positional awareness are paramount during the rally…
---
Watch out for cell towers when flying low altitude!
The coastal barrier islands generally work as long as there are not more than 2nm gaps between subsequent islands - here we are headed toward Ft. Walton Beach and Destin…
Once the flight settles in a bit, it is time to start comparing the GPS time enroute data to fuel burn. Establishing a baseline fuel burn early (within the first five minutes) is essential to planning further down the line. With such slim fuel margins, you don't want to pass a bailout point on the route and find yourself stuck between airports with not enough fuel to go forward or retreat. With my timer and my eye on the gauge, I come up with a fuel burn for the 407 of 10 lbs. of fuel every 2 minutes and 5 seconds. So with some simple maths…it is easy to calculate remaining endurance based on the fuel gauge alone. Here we have 108 lbs. @ 10 lbs. every 125 seconds = 1,350 seconds or 22.5 minutes of fuel remaining. Unfortunately, my GPS shows 21:50 to my planned destination. Hmm…
I monitor the situation nearly constantly. As I pass by Tyndall AFB I have to crunch numbers hard. I have 68 pounds remaining = 14 minutes and change of fuel remaining. The GPS is now showing 14:27 to Apalachicola. This is way too tight. Searching frantically for a closer airport I spy the tiny strip of Costin (A51) a bit closer which will give me a bit more breathing room on the fuel. But I have to keep in mind whether it is suitable for the next leg of the rally - can I get my next type of plane in and out of there? Sure - I still have lots of small aircraft to use - but later in the rally I won't have an inventory of 8 other planes to fall back on, so you can see how the planning will have to tighten up as the rally commences…
I peer through the windscreen and steal glances at my fuel gauge…it seems like forever before the tiny strip comes into view…
Down safely with 20 pounds of fuel remaining (4 minutes and 10 seconds remaining). Whew! That was stressful…!
My x-IvAp realtime flight log…
Though Apalachicola was only a mere 10nm more distant…at 120 knots that is still five minutes…so with 4 minutes and 10 seconds of fuel (and no reserve time for the deceleration and hovering approach)…I doubt I would have made it. And helo engines generally aren't much more fuel efficient at lower torque settings…the turbine is pretty much running near 100% all the time anyway…so unlike a piston or turbine fixed wing, I couldn't really fly much more efficiently.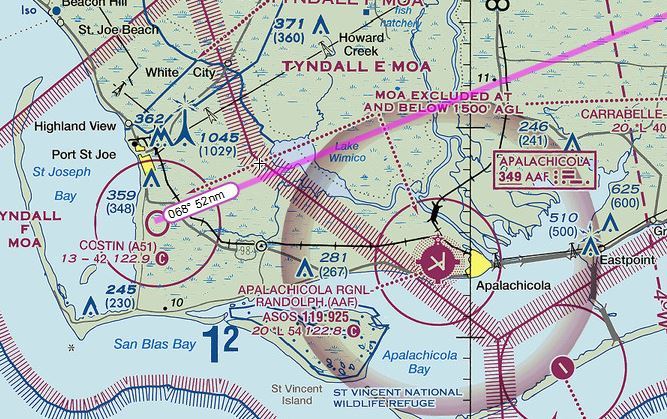 Wow - what a fun rally this is going to be. It isn't too late to join - the rally runs until December 14th and there is plenty of time to fly a couple legs a day to catch up. All of the details can be found HERE! Thanks to -bc- for coming up with the concept and all the friendly fliers at EPOCH as well as the rally sponsor X-Hangar.com.
Stay tuned for Leg 2…!
BeachAV8R