FOR IMMEDIATE RELEASE
Introducing the VKB Vintage Fat Black Mamba Joystick
(Shenzhen, China / Riverside, CA USA) - December 10, 2015 - VKB Industries and Stratojet Flight Controllers are proud to introduce the Vintage Fat Black Mamba joystick!
Vintage Fat Black Mamba Limited Edition
Due to popular demand, the Limited Edition Fat Black Mamba Mk.III, which went on sale last month, sold out in just a couple weeks. With the planned phase out of the "Cobra" grip that was included with the Fat Black Mamba and with an overstock of Fat Black Mamba bases - VKB has developed the new Limited Edition Vintage Fat Black Mamba! The Vintage Fat Black Mamba includes a WWII style grip which will also be found on the upcoming Gladiator line of joysticks. By combining this vintage looking grip with the high-tech Fat Black Mamba base, which includes our next-gen gimbal, you get a very unique and powerful joystick! It's perfect for all those WWII simulators like IL-2 Sturmovik, War Thunder or DCS WWII modules. With several rotaries, encoders and toggle switches you can control many aircraft systems right from the base, eliminating a large desktop footprint.
The Vintage Fat Black Mamba is now available for pre-order! MSRP for USA addresses is $359.99 and shipping is available to Canada with an additional shipping surcharge. Quantities is extremely limited!
Gladiator Pro Update
The Gladiator Pro is nearing the production phase and will be available for pre-order before the end of the year with shipment in Q1' 2016. The combination of the Gladiator form factor and our next-generation all metal gimbal is proving to be an awesome flying experience! We can't wait for users to be able to try it for themselves. Keep an eye out for more news soon.
The less expensive basic Gladiator joystick will follow into production after the initial batch of Gladiator Pro joysticks is completed. This will also be in Q1 2016.
Virtual Toe-Brakes Update
Work continues on the Virtual Toe-Brakes for the awesome T-Rudder pedals. Due to a heavy workload progress has been slower than anticipated and beta testing has been delayed, but work does continue. Here's a pic from the current interface. We've added some additional capabilities to make your pedals even more amazing.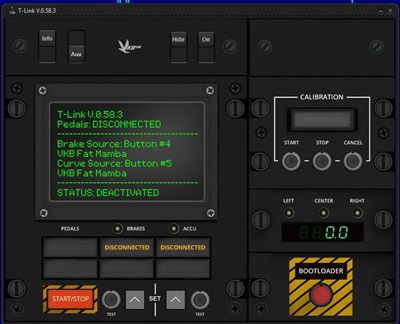 Please visit the official VKB forum at http://forum.vkb-sim.pro to keep up to date on production and availability news for our upcoming products. Make sure to notice our new English language section managed by Stratojet. A new English language version of the official VKB website http://vkb-sim.pro will be coming soon.
The VKB and Stratojet Teams
PR Contact for VKB and Stratojet
Jason Williams
[email protected]