So @BeachAV8R just reminded me here that there is an X-plane demo to try, I had forgot all about that.
The demo download page is here:
Being an 'early adopter' (that's shorthand electronic consumer speak for 'complete idiot needing to part with money') I've got a couple of SSDs (um, 5 now) in this PC, of varying size. As I keep buying them they keep getting faster and bigger. The oldest ones are actually small and can't contain many of today's big games.
So what I want to do (and what this post is really about) is to make some room so I can try X-Plane on my fastest SSD and perhaps move some stuff off I don't usually play, but not break it.
The easiest thing to do would be just to uninstall stuff I don't play, but there's always that 'Ah, but I might play it' feeling that stops me. So another option is to move the files but leave a 'NTFS Link' back to the folder on another disk. Keeping the gobbledygook to a minimum on Windows we use a 'NTFS' filesystem structure, and it's possible to put 'shortcuts' in that to fool where the OS thinks things live.
There are three types of links:
Symbolic Links. A link to a file or directory, which can be on another disk or even another machine using something called a UNC path (\\FROGPC1\C$\ etc).

Junctions. A link to a file or directory on the same or different volume, but on the same machine.

Hard Links. A link to just a file on the same volume (i.e. c:\frog.txt → c:\dir1\frog.txt). Often used where the link needs to abide by 256 character restrictions on filenames in old apps.
They roughly have a performance impact where hardlinks are the fastest, junctions are ok and symbolics can be random (as often on another machine, so network dependent).
So let's do an example of what I need (it'll work on any folder/install, but a real example helps).
I want to move my 'DCS Open Beta' install (the Open Alpha is working great for me, so I rarely use the Beta now, but don't want to remove it as updates will use that as a delta to update (maybe)) to make some space.

I still want the DCS Open Beta to work and for Windows to think it hasn't moved.
In this case, I want to use a 'Junction' as the volumes (D: and E: in my case) are on the same machine but I want an entire 'folder tree' directory to move and leave a link back.
I could just use the MKLINK windows command (built in Vista upwards), here's the options with now the link types explained should make more sense:

I do this often enough though that I use a Windows Explorer Shell Extension for it (plus that 'link target' always gets me for the wrong way around). There are a few but this one is here and free:
http://schinagl.priv.at/nt/hardlinkshellext/linkshellextension.html
Don't be put off with the webpage design (it's a programmers occupational hazard), as the following example shows, it's pretty simple:
First off I 'Cut' my D:\Games\DCS Open Beta directory in my regular Windows File Explorer. Then I paste it to it's new home on E:\Games. Whirr whirr (if SSD's made noise).

I pick the newly arrived folder on E: and use the shell extension to say it is a 'link source'. Check out the artwork here showing that: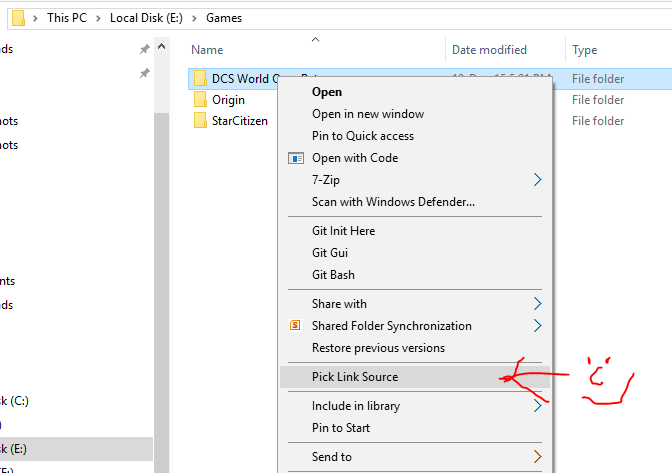 I then go back to where it used to live (D:\Games) and do the following: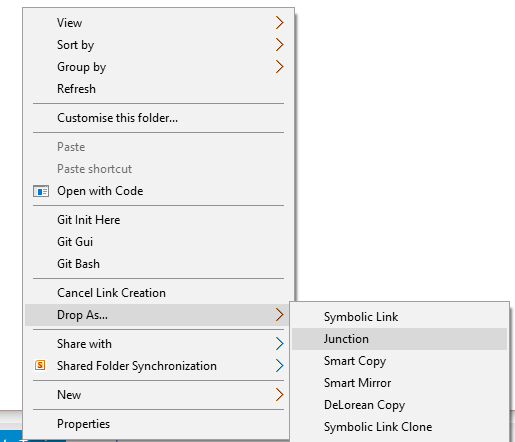 So I've dropped the link as a Junction. (Note: If your PC can go faster than 88 mph then don't use the DeLorean Copy option). You can see it with a wee link icon here, to show it's a link:

So I now have a fully functional DCS Open Beta install that Windows thinks lives in D:\Games\DCS Open Beta (just like it did before) but really takes space up on volume E:. It's not a copy, it's literally a link back.
I'm now free to use that extra 25GB for some X-Plane demo!