FOR IMMEDIATE RELEASE
Fat Black Mamba Joystick Mk.III Orders on Schedule
(Shenzhen, China / Riverside, CA USA) - January 6, 2016 - VKB Industries and Stratojet Flight Controllers are proud to give an update on Fat Black Mamba Mk.III Limited Edition orders and share pictures of their next-gen gimbal.
Fat Black Mamba Mk.III Order Update
Customers who ordered the Fat Black Mamba Mk.III Limited Edition joystick this fall will be happy to know that their orders are very close to being shipped, likely before the end of January. Production has begun and all units are on the assembly line. VKB and Stratojet have decided to deliver directly from the factory to shave four to five weeks off the wait time! The assembly team is taking great care to assemble each stick properly and they will all be tested to ensure they work before shipment.
Next-Gen Gimbal
VKB has released the first ever images of the finished all-metal gimbal that will be included in their latest joysticks. All parts are precisely machined and coated and ready for years of virtual flying and combat. No other joystick manufacturer engineers their gimbals like VKB. They are built to last and designed to be the best!
Special Cam for Warthog Adapter
Included in every Warthog Adapter kit will be a newly designed heavy-duty cam unit that properly balances the Warthog grip when installed. This will provide an even better response to user inputs for those customers that choose to combine the Warthog grip with the Mamba base.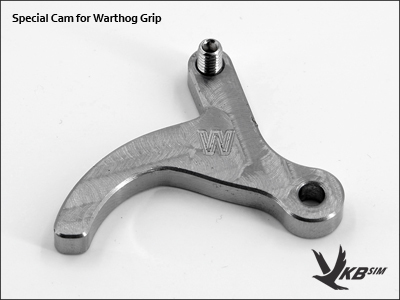 Vintage Black Mamba Availability
The Vintage Black Mamba joystick is still available for pre-order, but available units are running low. If you are considering purchasing one of these amazing sticks - don't delay. Quantities are very limited! And remember that the Vintage Black Mamba also comes with our new next-gen gimbal that sets a new standard for joystick design!
The Vintage Black Mamba joystick is available through our retail partners Stratojet and FSC VKB Europe.
Please visit the official VKB forum at http://forum.vkb-sim.pro to keep up to date on production and availability news for our upcoming products. Make sure to notice our new English language section managed by Stratojet. A new English language version of the official VKB website (http://vkb-sim.pro) will be coming soon.
The VKB and Stratojet Teams
PR Contact for VKB and Stratojet
Jason Williams
[email protected]