FOR IMMEDIATE RELEASE
VKB and Stratojet Announces Product Line for 2015-2016
(Shenzhen, China / Riverside, CA USA) - October 6, 2015 - VKB Industries and Stratojet Flight Controllers are proud to announce our production and release plans for our upcoming flight-simulation products. VKB Industries has been working on several new products that are now in the latter stages of pre-production. Pre-orders for these products will begin in the coming weeks and months through our retail partners in North America and Europe.
Stratojet is VKB's official North American partner and will be selling all future VKB products through their retail website located at http://www.gostratojet.com. Stratojet recently began selling VKB's innovative T-Rudder Mk.III pedals to customers in the USA and Canada. Our partner FlightSimControls.com (VKB FSC Europe) will continue to be VKB's exclusive retailer in Europe. VKB will also continue to handle sales in Russia and Asia directly. Information about additional markets will be released in the coming months.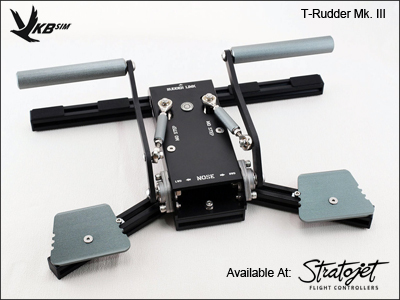 Gladiator Family
VKB is proud to officially announce the Gladiator Family of joysticks. The Gladiator will come in a total of four (4) desktop models to meet the needs of novice and expert flyers alike. The Gladiator line will range from an entry level design with a modest price point to a more advanced design aimed at the hardcore enthusiast who demands extreme precision and smooth action. The Gladiator Family includes the following models:
Gladiator - A stylish, powerful and precise joystick for flyers who want to be deadly in a dogfight, but not spend a fortune. It includes a twist grip with a very precise contactless sensor. You can also plug in several VKB rudder pedal designs such as the T-Rudder into the Gladiator and have the rudder axis read by the computer as an additional axis on the joystick itself instead of a separate device.
Gladiator Pro – This model Includes all the style and functionality of the original Gladiator, but with a more advanced metal gimbal for extreme precision and unmatched feel. The Pro is designed for flyers that put in many flight hours and demand a high level of durability. This stick is designed to be used in conjunction with rudder pedals and has no twist grip. The grip on the Pro is removable and will accept other stick grips from other manufacturers or future VKB designs.
Gladiator Plus –An all-in-one affordable H.O.T.A.S. for desktop use which includes the Gladiator stick with twist and an attached throttle. It also includes many additional rotary knobs and buttons for advanced functions in your game or simulation. It also retains the ability to plug in VKB rudder pedals.
Gladiator Pro Plus – This is the ultimate Gladiator model, which includes the throttle, but also our advanced metal gimbal for the stick. Since it is a Pro model it is made for use with rudder pedals so the twist function has been omitted. The grip on the Pro Plus is also removable and will accept other stick grips from other manufacturers or future VKB designs.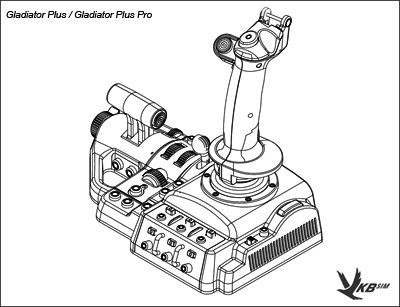 The Gladiator line will set a new standard for both rookie and veteran flight-simmers who want to use a quality stick from the comfort of their desktop.
Gunfighter Mk.I
Continuing VKB's tradition of high-end flight stick solutions for the serious enthusiast, the Gunfighter Mk.I will be the foundation of our future modular H.O.T.A.S. system which is currently in the design phase. The Gunfighter includes a new, compact and sturdy base that houses our advanced metal gimbal system. The base can be placed on the desktop or easily integrated into a custom home cockpit.
The default grip of the Gunfighter will be that of the Gladiator shape. The grip will be removable and can be replaced with another style of grip such as the Warthog™ or Cougar™ grip by Thrustmaster™ or future styles offered by VKB.
KG12 Grip
The KG12 Grip is a modified replica of the well-known German KnuppelGriff 12 design of WWII fame. The KG12 Grip is currently under development and when produced it can be placed on the Gladiator Pro or Gunfighter base or the base of other manufacturers such as the Warthog™ or Cougar™ by Thrustmaster™ with an included adapter. The original KG12 stick found in WWII aircraft had only four (4) buttons, but our stick will have a total of twelve (12) buttons. The KG12 will be of the highest build quality and meant to last. It will ship with an included extension for home built cockpits to further heighten immersion levels. The KG12 Grip will be a great way to experience the feel of a real-world stick design used by actual pilots in WWII.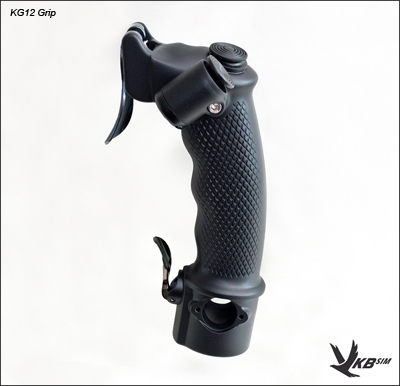 Pricing and Availability
Final retail prices of the products above are not yet available, but rest assured we will announce them as soon as it is feasible. A pre-order program will be launched for each product prior to release and quantities will be limited for initial batches. Details of the pre-order program for the Gladiator and Gladiator Pro will be announced soon.
The planned availability schedule of the products above is as follows:
Gladiator – Q4 2015
Gladiator Pro – Early Q1 2016
Gladiator Plus – Q2 2016
Gladiator Pro Plus – Q2 2016
Gunfighter Mk.1 – Q1 2016
KG12 Grip – Q2 2016
Software Development
VKB continues to work on sophisticated software which will add the ability to program your controller. This is a long-term project that will reach maturity in 2016. However, all of our products work flawlessly without any need to program the buttons or axis. However, we realize programmability is important to many users and we will work hard to deliver a powerful, but easy to use software suite in the coming months. Also, all of our latest product's firmware is upgradeable should that become necessary after purchase.
Please visit the official VKB forum at http://forum.vkb-sim.pro to keep up to date on production and availability news for our upcoming products. Make sure to notice our new English language section managed by Stratojet.
The VKB and Stratojet Teams
PR Contact for VKB and Stratojet
Jason Williams
[email protected]