FOR IMMEDIATE RELEASE
VKB Stratojet Gladiator Update and Fat Black Mamba Mk.III
(Shenzhen, China / Riverside, CA USA) - November 9, 2015 - VKB Industries and Stratojet Flight Controllers are proud to give a brief update on the Gladiator line and announce plans for the Fat Black Mamba Mk.III.
Gladiator Progress
VKB engineers have been hard at work finishing the design and pre-production phase of the Gladiator and Gladiator Pro joysticks which were officially announced in October. Work is on schedule and early production prototypes are being tested and tweaked to meet the high quality standards set by VKB for the first production run. Below are some pictures of a late stage prototype.
Fat Black Mamba Mk.III Pre-Orders
By popular demand VKB has agreed to produce a limited number of the popular Fat Black Mamba joystick. Although externally identical to the Fat Black Mamba Mk.II, the new Mk.III will include our next generation gimbal as part of the package. This product will be extremely limited in its availability. Our European (VKB FSC Europe) and North American (Stratojet) partners will handle sales for the Mk.III in their respective territories. Both Stratojet and VKB FSC will be taking pre-orders for the Mk.III. MSRP of the Mk. III is $369.99 in North America. The MSRP for Europe has not been finalized at this time. Please check with VKB FSC for more information on pricing and ordering.
Shipment of the Black Mamba Mk.III should be Q1 2016. Please visit Stratojet and VKB FSC Europe to place a pre-order. Hurry, quantities are extremely limited!
ALL PRE-ORDERS PLACED BEFORE DECEMBER 10, 2015 WILL INCLUDE A CUSTOM ENGRAVING OF YOUR CALLSIGN OR SPECIAL LOGO ON THE BASEPLATE FREE OF CHARGE COURTESY OF VKB AND STRATOJET. THIS IS A LIMITED TIME OFFER. YOU WILL BE CONTACTED ON HOW TO SUBMIT YOUR CALLSIGN OR ARTWORK AT A LATER DATE.
Next Generation Gimbal
VKB's all new metal gimbal that will be used in the Gladiator Pro, Fat Black Mamba Mk.III and future Gunfighter joystick is currently undergoing testing and final design improvements. This gimbal will set a new standard in precision and feel for high-end PC flight controllers. Below is a picture of the prototype. Final units will be polished and coated to ensure ultimate quality.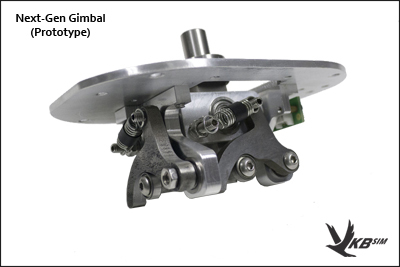 Virtual Toe-Brakes for T-Rudder Pedals
VKB is also excited to announce that development of "virtual toe-brakes" for all marks of the T-Rudder has now reached the beta testing phase. This will allow users to press a button on their joystick, throttle or keyboard to activate the toe-brake feature on the T-Rudder. You can assign keystrokes to either pedal and when you press the pedals a braking signal will be sent to your game for either the left or right wheel. The amount of braking force applied will be determined by the deflection of the pedals. This will allow the VKB T-Rudder to have all the functionality of its bigger, bulkier cousins with physical toe-brakes. Virtual toe-brakes are just another example of VKB's ingenuity and quality engineering.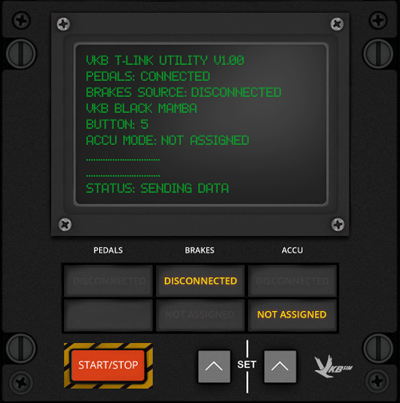 Please visit the official VKB forum at http://forum.vkb-sim.pro to keep up to date on production and availability news for our upcoming products. Make sure to notice our new English language section managed by Stratojet. A new English language version of the official VKB website (http://vkb-sim.pro) is also in development.
The VKB and Stratojet Teams
PR Contact for VKB and Stratojet
Jason Williams
[email protected]