Nice.
The coordinates in the end are Bagram btw.
34°56'46"N, 69°15'54"E
A few snippets from my phone…
First evidence of Phantom or Thud right there ladies and gentlemen.
Wish they would stop teasing the 15E, I just want the dang thing already!
Plus an Afghanistan map and an F-4…Not bad, not bad at all!
Yes!!!
My jaw hit the ground when I saw that in-cockpit Mud Hen footage. I have fond memories of Jane's F-15 back in the day.
For a short vid, it was hella packed with lots of flight sim goodness.
Afghan has me more excited than anything else apart from the Falklands
F15e looks incredible!! A6 as well


I know in my head it will be the Phantom and I'm OK with that, but the 5 percent chance its a thud is far more interesting to me.
Still…bagram



What's that pod the mudhen has on the centreline?
I've said it elsewhere too:
The DCS porn is real, but two things:
why does Nick have to overact every time? It just irritates me to no end!

it strikes me as odd to choose a christmas song written by a peace loving pacifist to showcase virtual destruction. The fact that the song has 'blue skies' and 'wonderful world' in the lyrics doesn't make it qualify for this particular use even though we do see, you know, a beautiful virtual world and nice artificial skies… the editor has missed the meaning of the song quite brutally here imo.
Ahaha how very Dutch of you!

Heh. Either he has or you have quite brutally missed the editors' meaning here

Most fighters are pacifists (I know I am!) . Si vis pacem para bellum (if you desire peace, ready for war) is a reason many men (and women) take up arms. To me the song makes a lot of sense in a wry, contrasty kind of way.
…But is it Art?
I think he has the perfect narrators voice! Just perfect!
Is 'A wonderful world' a christmas song?
Anyway, irony, perhaps?
Why is there a single sparrow on the centreline rear of that tomcat
I use this exact and similar loadouts all the time, often only one Phoenix as well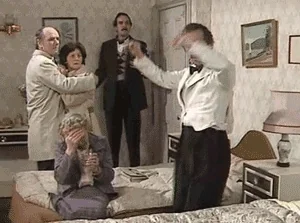 Not sure, some kind of sensor pod I believe. But that loadout is brutal and correct! Only issue is station 8 would have the 9 outboard. But damn that's a beautiful jet
Black cross, red meatball, they're all fokkers to me

You mean the Anton in Drag?
Duoh! See that now. Strange that they would put that in the video. Maybe hinting at the WW2 version of the Marinas?